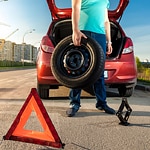 If you've ever had to change a flat tire you have probably encountered a "donut" or compact spare. These small tires are often included as a temporary option for replacing a flat. Auto Express Alfa Romeo of Erie wants you to be informed on the difference between a donut and a full-size spare tire.
The most important difference between the two is that temporary spare tires are meant to be just that - temporary. They are not meant to be driven on for long periods of time, and they don't handle high rates of speed well. A full-size spare is almost always a better option.
Hear at our dealership we can help you with replacing your donut temporary tire. We can also offer tire service when your existing tires need replacement. Our talented team of service specialists are always available to answer any questions that you have about the limitations of temporary spare tires.